| | | | |
| --- | --- | --- | --- |
| Sulu Sultan Kiram, 75, dies of organ failure | | | |
By Kristine Angeli Sabillo, INQUIRER.net (Oct. 20, 2013)
MANILA, Philippines – Sultan Jamalul Kiram III died on Sunday, his daughter told Radyo Inquirer 990AM.
Princess Jacel Kiram said the 75-year old heir of the Sulu sultanate died of multiple organ failure at the Philippine Heart Center at 4:42 a.m. on Sunday.
She said Kiram, who made headlines in February after his men clashed with Malaysian forces in a bid to reclaim Sabah, has long been suffering from kidney problems. He has been confined in the said hospital since Thursday.
"Whatever my father started, he left for us to continue…We should not falter. He's a great man, a good man. He was priceless. All he wanted was, in his right time, be allowed by Allah to reclaim Sabah for the Filipinos…We'll be the ones to continue that," she said.
She said Kiram's passing was not that hard for the family to accept since her father had already instilled in them that things happen because of the "will of Allah."
The younger Kiram said they might bring the remains to Jolo, Sulu.
On February 9, 2013, at least 200 men led by the Sultan's brother Rajah Mudah Agbimuddin Kiram landed in Lahad Datu to reclaim Sabah for the Philippines. The standoff between Kiram's men and Malaysian authorities had resulted in deadly clashes.
Kiram, one of the heirs of the Sulu sultanate, said they wanted the Philippines to pursue the historical claim on Sabah through the International Court of Justice or the United Nations. His group claims that Sabah was merely leased to the British North Borneo Co. which later transferred its rights to Malaysia. Amid Malaysia claiming Sabah as its state, the Malaysian Embassy in the Philippines reportedly continues to issue a check of 5,300 ringgit to the heirs of the Sulu sultanate. Malaysia calls it "cession" payment but the sultanate's descendants consider it lease payment.
 Read more: http://globalnation.inquirer.net 
 to the family and relatives of the late Dr. Alibaser M. Lucman, husband of Bae Omera Dianalan Lucman former Secretary of National Commission on Muslim Filipinos & a brother of Dr. Alexander M. Lucman passed way this morning at 7am at the Cardinal Santos Medical Center. His remain was flown to Mindanao by his family with the Cebu Pacific 3:30pm flight. He will be buried immediately upon arriving Marawi City this afternoon at their compound in Saduc.
 Tausug police, soldiers lead fight vs MNLF

 Misuari nephew, 35 MNLF fighters surrender after gunbattle in Zamboanga City

 MNLF commander, 7 members arrested in Zamboanga City

 Misuari promised fighters P10,000 and a firearm each — ARMM governor

 Moro rebels attack North Cotabato

 BIFF frees remaining hostages in Midsayap fighting

 436 families displaced in Midsayap fighting

 MNLF had stockpiles of ammo and food before attack on Zamboanga

 4 MNLF men killed, 2 soldiers wounded in fresh Zambo clash–military

 Wife of soldier killed by MNLF sniper mourns loss during her birthday

 Young lieutenant killed in Zambo

 Davao cinema bombing suspects caught on CCTV

 Luistro: Zamboanga students affected by crisis to undergo stress debriefing

 Gov't seeks probe into MNLF ammunition supply

 Aquino: I'm responsible for Zamboanga operations
| | | | |
| --- | --- | --- | --- |
| Mosque in Baclaran demolished | | | |
By Perseus Echeminada (The Philippine Star) Sept. 26, 2013
MANILA, Philippines - A mosque in Baclaran, Parañaque City was demolished yesterday reportedly to give way to the construction of a shopping center.
Southern Police District director Chief Superintendent Jose Erwin Villacorte said the mosque is an illegal structure since it was built on a private lot.
He said the demolition order was covered by a court decision.
Muslim vendors in the area watched as members of the demolition team started dismantling the mosque.
A leader of the community condemned the demolition of the mosque, saying it was donated by former Parañaque mayor Joey Marquez.
Although the mosque is within the jurisdiction of Pasay, Jonathan Malaya, spokesman for Mayor Antonino Calixto, said the city government had nothing to do with the demolition.
Informal settlers in the area left peacefully.
Source: Philstar.com
| | | | |
| --- | --- | --- | --- |
| 4 Army men jailed for ransacking house in Zambo | | | |
By Miguel Ortilla (solarnews.ph)
Zamboanga City - The Guingona family's house along Martha Drive in Zamboanga City was ransacked.
It stood some meters away from the conflict zone between government troops and members of the Nur Misuari faction of the Moro National Liberation Front (MNLF).
Documents, shelves, and cabinets were in complete disarray. Doors were forcibly opened. There was also an obvious attempt to open the safety vault.
It looked as though tornado had gone through the inside of the house, as Councilor BG Guingona, whose uncle owns the house, described the scene.
It was not MNLF guerillas who broke in, but four Army soldiers.
The councilor said: "We even give food to these soldiers, tapos ito ang kapalit [and this is how they repay us]."
Read more...
| | | | |
| --- | --- | --- | --- |
| Endgame for ageing rebel leader Nur Misuari? | | | |
(gmanetwork.com) By CECIL MORELLA, Agence France-Presse (Sept 19, 2013)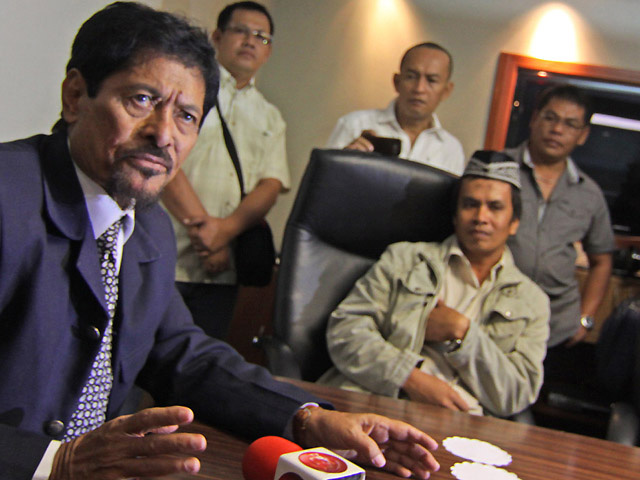 Nur Misuari, a charismatic Muslim leader who set the Philippines' south ablaze with rebellion decades ago, is back doing what he does best after a less-than-successful fling with peace.
 
At the age of 71, the former academic is orchestrating a stand-off in the southern port city of Zamboanga that has claimed more than 100 lives and put him back in the national spotlight.
 
"We don't want to be part of the Philippines anymore," Misuari told supporters in his Jolo island stronghold on August 12 as he declared himself the president of the "Bangsamoro Republik" and railed against national government authorities.
 
"Their presence in our homeland is illegal, unlawful, illicit. They should pack up and leave."
 
A firebrand orator from an influential clan of the Tausug, a warrior-like seafaring tribe, Misuari rallied thousands of fellow Muslims in the early 1970s to take up arms for a separate state in the southern Philippines.
 
He was continuing a tradition for Muslims in the south of the mostly Catholic Philippines who had for centuries resisted outside Christian rule – whether that be Spanish, American or Filipino.
read more => http://www.gmanetwork.com/news/story/327191/news/regions/endgame-for-ageing-rebel-leader-nur-misuari
| | | | |
| --- | --- | --- | --- |
| Iqbal says MILF got "much more than the ARMM" for the future Bangsamoro | | | |
By Carolyn O. Arguillas on  July 14 2013 5:28 pm (MindaNews.Com)
DAVAO CITY (MindaNews/14 July) – The Moro Islamic Liberation Front (MILF) did not get everything that it proposed to the Philippine government's (GPH) peace panel on the issue of wealth-sharing and revenue generation but MILF peace panel chair Mohagher Iqbal said they secured for the future Bangsamoro government "much more than the ARMM (Autonomous Region in Muslim Mindanao)."
Iqbal told MindaNews in a text message Sunday morning that what the MILF got in the Annex on Revenue Generation and Wealth Sharing in terms of taxing powers, shares in revenues, natural resources and block grant "strengthen the ancestral domain doctrine."
Read more...
<<

Start

<

Prev

1

2 3 4 5 6 7 8 9 10 Next > End >>


Page 1 of 32
Advertisement